Key Support Priorities in Cambodia
A contextual analysis on the following five marginalised and discriminated groups -which are the overall global target groups for Voice- brought to light some interesting results:
People living with disabilities
Lesbian, gay, bisexual, trans-gender, intersex (LGBTI) people
Indigenous groups and ethnic minorities
Women facing exploitation, abuse and/or violence
Age discriminated vulnerable groups notably the young and elderly
While all groups face a level of marginalisation and discrimination in Cambodia the analysis made very clear that the first three groups were the most discriminated with women and girls as the most common intersection identified between all groups. Women in all the groups are more vulnerable, face higher rates of poverty, lower economic opportunity, higher rates of violence, poorer health conditions, and other vulnerabilities compared to men.
Older women face more economic hardship and health problems than older men, girls have less access to education than boys, indigenous women are less likely to hold leadership positions or having decision making power than indigenous men, Transgenders and Lesbians face more violence than Men Having Sex with Men, and women with disabilities are more likely to experience abuse than men with disabilities. These factors reflect gender inequality as a cross-cutting issue among all the target groups. A gender impact was present in all exclusion analysis for each group.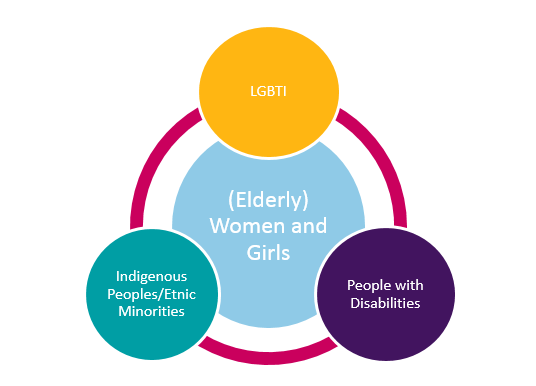 Voice in Cambodia will prioritise the first three groups with a focus on women and girls as a cross-cutting issue. Any proposal which will not focus on the above will simply not be eligible for funding.
Projects funded by Voice will need to address one or more of the impact themes:
improving access to (productive) resources (finance, land and water) and employment
improving access to social services, health and education in particular
fostering space for political participation
On December 8, in the margins of International Human Rights Day, Oxfam Cambodia launched Voice nationally. While Voice in Cambodia is coordinated by the Oxfam country office, at a global level Voice is executed in consortium with Hivos and funded by the Netherlands Ministry of Foreign Affairs. Please note that we are committed to providing all information in Khmer.
On this page you will find all the relevant links to the available documents in Khmer; for the full Khmer translation of this page please go here.
No person – regardless of ethnicity, gender, geography, disability, sexual orientation, race or other status - should be denied universal human rights and basic economic opportunities. Voice will give the people being left behind the opportunity to have a say in the policies that should make this ambition a reality.